Chopped Sugar Cane Distributor - DCP 5000
Implement developed to perform the distribution of the sugar cane seeds in the planting furrows, in areas where furrowing and fertilization has already been done.
The chopped cane distributor DCP 5000 is traction by a tractor with minimum horse power of 140hp, trough coupling in the traction bar and, the set Works inside the open furrows, what facilitates the operation stability, even on areas with bigger slope.
The distributor posses a bin with capacity for 15 cubic meters, and is filled by sugar cane trailer with the mechanical harvested seeds, trough a harvester prepared to harvest seeds. Posses 2 transporting conveyor belts in the bin´s bottom that brings the seeds to the distribution conveyor belts, which deposit the seeds in the planting furrows.
The transporting conveyor belt and the distributor conveyor belt are driven by independent hydraulic circuits, controlled by mechanisms located in the tractor´s cabin, where the operator posses a sight of all the distribution process, trough monitor that exhibits the images sent by cameras.
Posse's tandem axle with 4 low pressure tires and 2 scarifies that prepares the furrow bottom to receive the seeds.
Characteristics:
15 cubic meters bin
2 transporting conveyor belts with 15 slats each one.
2 distributing conveyor belts with 13 slats each one, alternately positioned.
Total height 3,10 metros
Height 2,70 meters (without loading complement).
Width of 2,70 meters in operation.
Width of 2,70 meters for transport.
Length of 7,10 meters.
Wheel Gauge of 1,50 meters.
Aprox. Weight 5.500 Kg (empty).
Tandem axle with 4 400/55 x 22,5 – 12 ply low pressure tires.
Turning radius of 6,50 meters.
Coupling on the traction bar
Minimum Required Power:
140 hp
Code:
1.01.05.01.01.001
---
Download
Spare Parts Catalogue
---
Vídeo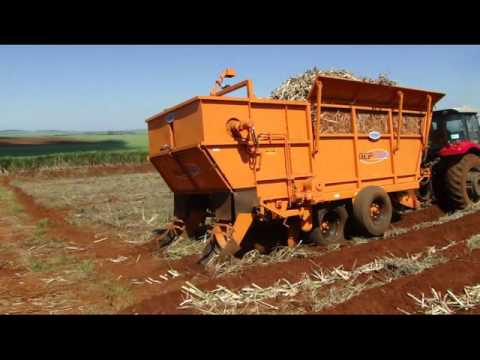 ---
Image Gallery